Brexit: Theresa May to meet Jeremy Corbyn to tackle deadlock
Written by Millennium on April 3, 2019
All MPs have a responsibility to deliver Brexit, Theresa May has said, responding to criticism from her own MPs over talks with Jeremy Corbyn.
The PM said the public "expect us to reach across this house to find a way through this".
Mr Corbyn said he welcomed the PM's "willingness to compromise to resolve the Brexit deadlock".
The PM's move to hold talks has angered some Brexiteers, with Wales Minister Nigel Adams resigning his role.
In his resignation letter, Mr Adams said the government was at risk of failing to deliver "the Brexit people voted for".
The PM is also due to meet Scotland's First Minister Nicola Sturgeon and Welsh First Minister Mark Drakeford.
Ms Sturgeon has called for a long extension to work out the way forward – and a public vote on any deal – and Mr Drakeford has said he wants to argue for a closer long-term economic relationship with the EU.
At Prime Minister's Questions, Mrs May drew criticism from some Tory MPs over her planned talks with the Labour leader.
She said "every member of this house is involved in Brexit", adding: "I want to deliver Brexit, I want to deliver it in an orderly way, I want to do it as soon as possible… to do that have to get an agreement through the house."
Mrs May stressed that MPs had "rejected every proposal so far".
She said there were a "number of areas" she agreed with Mr Corbyn on in relation to Brexit, including ending free movement.
Mr Corbyn said he welcomed the prime minister's "willingness to compromise to resolve the Brexit deadlock" and was looking forward to meeting her later on Wednesday.
But he added: "Let's work to resolve Brexit deadlock, but unless this government tackles insecure work, low pay… this government will be marked down for what it is – a failure in the eyes of the people in the country."
The BBC's Laura Kuenssberg said she has seen a motion that would censure the prime minister and other government ministers for their handling of Brexit, saying this is a "taster of the anger around".Skip Twitter post by @bbclaurakView image on Twitter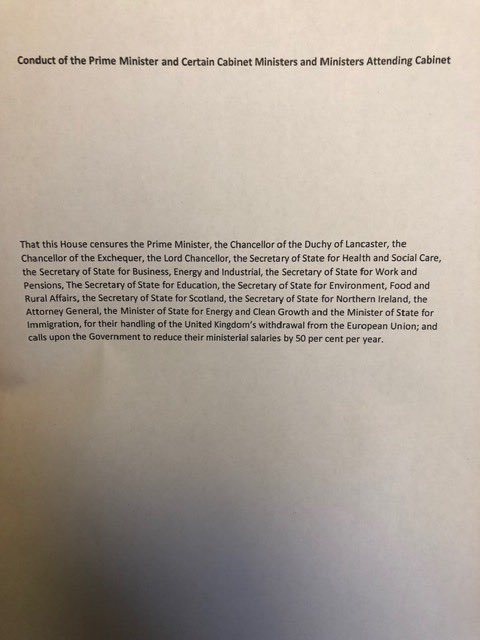 Just been sent this – said to be circulating now in Commons- motion that would censure the Prime Minister and some ministers and even dock their pay – not sure if this will pick up much support, but shows some Tories are very very angry this morning1,2541:36 PM – Apr 3, 2019892 people are talking about thisTwitter Ads info and privacyReport
End of Twitter post by @bbclaurak
Following the PM's announcement on Tuesday, prominent Brexiteer Boris Johnson accused Mrs May of "entrusting the final handling of Brexit to Labour".
Former Tory leader Iain Duncan Smith also criticised the move.
But Brexit Secretary Stephen Barclay blamed hard Brexiteers in the ERG who refused to back the PM's deal.
He told BBC Radio 4's Today programme the alternative to the PM's deal was to seek votes from the opposition benches "because 35 of my own colleagues would not support the prime minister's deal".
He said the consequence of MPs not passing the PM's deal was either a "soft Brexit or no Brexit at all".
Mr Barclay said the EU has said the withdrawal agreement is the only deal available, adding that Labour had expressed more concern about the future relationship – which is contained within the separate political declaration.
The withdrawal agreement includes how much money the UK must pay to the EU as a settlement, details of the transition period, and citizens' rights – as well as the controversial Irish backstop that aims to avoid a hard border on the island of Ireland.
The political declaration sets out proposals for how the UK's long term future relationship with the EU will work after Brexit.
The BBC's Laura Kuenssberg said there was not much difference between the government's version of Brexit and Labour's version – but there did not seem to be "an enormous amount of confidence" a political consensus could be reached from either party.
Ms Sturgeon has urged Mr Corbyn to be "very, very wary" over reaching a Brexit agreement with the prime minister, warning that anything agreed could by unpicked by Mrs May's successor.
She told the BBC: "We all have to be cautious that we are not falling into a trap by a prime minister who is desperate to get her withdrawal agreement almost at any cost."
It comes after Mrs May had more than seven hours of talks with her cabinet on Tuesday.
Laura Kuenssberg said there was "rage and dispute" in the cabinet meeting, with "wildly varying accounts" of how many people were for and against different versions of Brexit extensions.
Labour has previously said it has five tests for judging any final Brexit deal, including protecting workers' rights, establishing a permanent customs union with the EU and securing the same benefits of being in the single market the UK has currently.
Later in Parliament
Meanwhile, a cross-party group of MPs will attempt to push through legislation to stop a no-deal Brexit.
If passed into law, the bill – presented by Labour MP Yvette Cooper – would require the PM to ask for an extension of Article 50.
House of Commons: Wednesday's approx timings for cross-party bill
14:00 BST – Debate on a bill designed to ensure the government seeks a delay to Article 50 and stop no deal in law due to begin
19:00 – A second reading vote on the bill
22:00 – Committee stage starts (this stage usually starts within a couple of weeks of a bill's second reading) and finally third reading vote
Thursday – Bill is expected to be considered by the House of Lords
The UK has until 12 April to propose a plan to the EU – which must be accepted by the bloc – or it will leave without a deal on that date.
Mrs May said she wanted to agree a new plan with Mr Corbyn and put it to a vote in the Commons before 10 April – when the EU will hold an emergency summit on Brexit.
She insisted her withdrawal agreement – which was voted down last week – would remain part of the deal.
If there is no agreement, Mrs May said a number of options would be put to MPs "to determine which course to pursue".
In either event, Mrs May said she would ask the EU for a further short extension to hopefully get an agreement passed by Parliament before 22 May, so the UK does not have to take part in European elections.
What has been the reaction to the PM's offer?
European Parliament Brexit co-ordinator Guy Verhofstadt tweeted: "Good that PM Theresa May is looking for a cross-party compromise. Better late than never."
President of the European Council, Donald Tusk, called for patience.
Skip Twitter post by @eucopresident
Even if, after today, we don't know what the end result will be, let us be patient. #Brexit21.1K7:31 PM – Apr 2, 2019Twitter Ads info and privacy5,728 people are talking about thisReport
End of Twitter post by @eucopresident
The DUP's chief whip Sir Jeffrey Donaldson told BBC Radio Ulster that regardless of what emerges in the coming days, the party's stance on the union was "un-persuadable".
She was for budging. The prime minister has made her priority leaving the EU with a deal, rather than the happy contentment of the Brexiteers in the Tory party.
For so long, Theresa May has been derided by her rivals, inside and outside, for cleaving to the idea that she can get the country and her party through this process intact.
But after her deal was defeated at the hands of Eurosceptics, in the words of one cabinet minister in the room during Tuesday's marathon session, she tried delivering Brexit with Tory votes – Tory Brexiteers said "No".
Now she's going to try to deliver Brexit with Labour votes. In a way, it is as simple as that.
Wednesday 3 April: Theresa May likely to begin talks with Jeremy Corbyn; cross-party group attempts to rule out no-deal in law
Wednesday 10 April: Emergency summit of EU leaders to consider any UK request for further extension
Friday 12 April: Brexit day, if UK does not seek / EU does not grant further delay
23-26 May: European Parliamentary elections
Your guide to Brexit jargon
Use the list below or select a button – Choose a Brexit term – Alignment Another referendum Article 50 Backstop plan Brexit Brexit bus Brexit day Brexiteers Brexiters Brexodus Brino Cake and eat it Canada model Canada plus Chequers plan Cherry picking Cliff edge Common Agricultural Policy Council of Ministers Customs union DExEU Disorderly Brexit Divergence Divorce bill EU EU referendum European Commission European Council European Court of Justice (ECJ) European Economic Area (EEA) European Free Trade Association (EFTA) European Parliament Eurosceptic Euroscepticism Facilitated customs arrangement Four freedoms Free trade agreement Free movement Frictionless trade Globalisation Hard border Hard Brexit Henry VIII powers Indicative vote Irish border Malthouse compromise Managed no deal Mandate Max-fac Meaningful vote MEP No deal Norway model Passporting Political declaration Remoaners Schengen area Settled status Single market Soft Brexit Tariff Tariff-free trade Transition period Treaty TTIP White Paper Withdrawal agreement WTO rules Withdrawal agreementNo dealCustoms unionWTO rulesBackstop planIrish border
---
Reader's opinions
---